PLAST 2023|Phenol-free Phosphites 2.0 Released by Changhe Chemical for New Growth in the Rubber and Plastic Industry
[Italy, Milan, September 11, 2023]
From September 5 to September 8, as an exhibitor Changhe Chemical participated in PLAST 2023 - the biggest European industrial rubber and plastic exhibition this year. PLAST made a comeback after a five-year absence, where high-quality suppliers and industry buyers from Europe and beyond gathered together. This year Changhe Chemical provided customized products and solutions for European customers with phenol-free phosphite, high-performance phosphite, low-impurity phosphite, polyurethane blend series, etc.
On the theme of "Jointly Build an Innovative and Environmentally Friendly New Chemical Ecology", Laura Lang, Business General Manager of Changhe Chemical elaborated on new breakthroughs of phosphites for customers in three aspects, "Anti-hydrolytic, Efficiency, Environmental protection" and efforts to improve characteristics with low odor, high transparency, yellowing resistance and high-temperature resistance of phosphite antioxidants as additives. At the same time, new effective phosphites CHPHOS™️ 4500, CHPHOS™️ 618, phenol-free phosphites CHPHOS™️ 430 and other products were launched to the European market. As a manufacturer, Changhe continues to empower the rubber and plastics industry with innovation and accelerate the upgrading and development of the industry.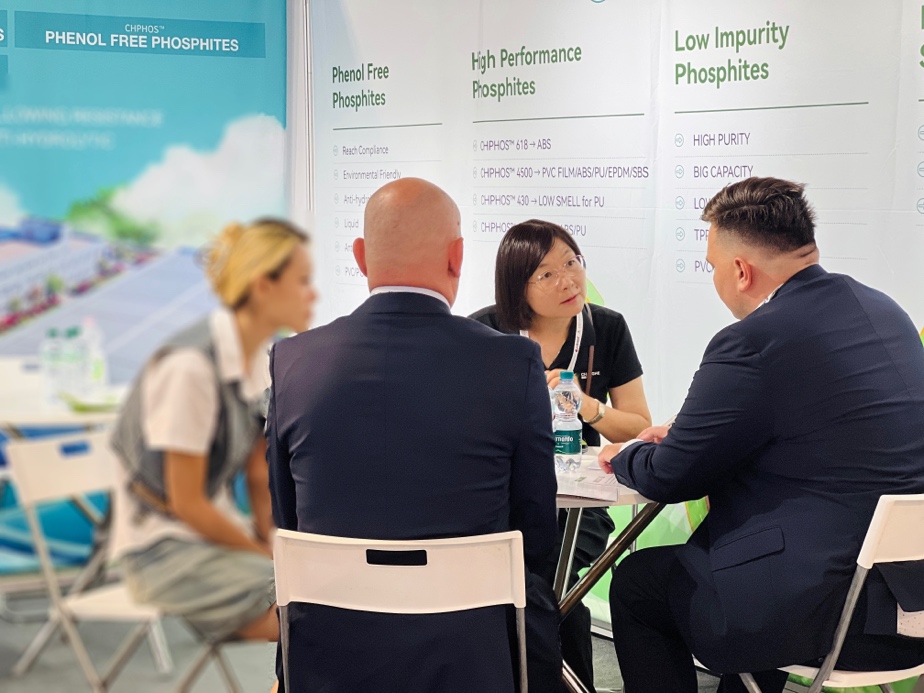 Laura Lang introducing phenol-free phosphite to customers.
Laura Lang said that as the world attaches great importance to environmental protection to accelerate the promotion process of phenol-free phosphites, Changhe Chemical is dedicated to developing phenol-free phosphites 2.0 to meet the needs of environmental protection in multiple fields through continuous innovation, such as health and environmental protection of PVC on food packaging and safety and health of PU foam in underwear and pillows in contact with the human body.
Looking towards the future, Changhe Chemical will continue to increase its efforts in researching and developing innovative additive products and providing solutions for PVC, PU, ABS, LLDPE, and PP industries, as well as carry out joint innovation with customers and business partners to achieve product upgrades of rubber and plastic industry, accelerate the high-quality development and stimulate new growth of the industry.
Article from:
Digital Journal
https://www.digitaljournal.com/pr/news/getnews/changhe-chemical-released-phenol-free-phosphite-2-0-to-stimulate-new-growth-in-the-rubber-and-plastic-industry#:~:text=and%20plastic%20industry-,Changhe%20Chemical%20released%20phenol-free%20phosphite%202.0%20to%20stimulate%20new,the%20rubber%20and%20plastic%20industry&text=From%20September%205%20to%20September,and%20plastic%20exhibition%20this%20year.

Times Online
http://business.times-online.com/times-online/markets/article/getnews-2023-9-11-changhe-chemical-released-phenol-free-phosphite-20-to-stimulate-new-growth-in-the-rubber-and-plastic-industry